Coffee Coffee Coffee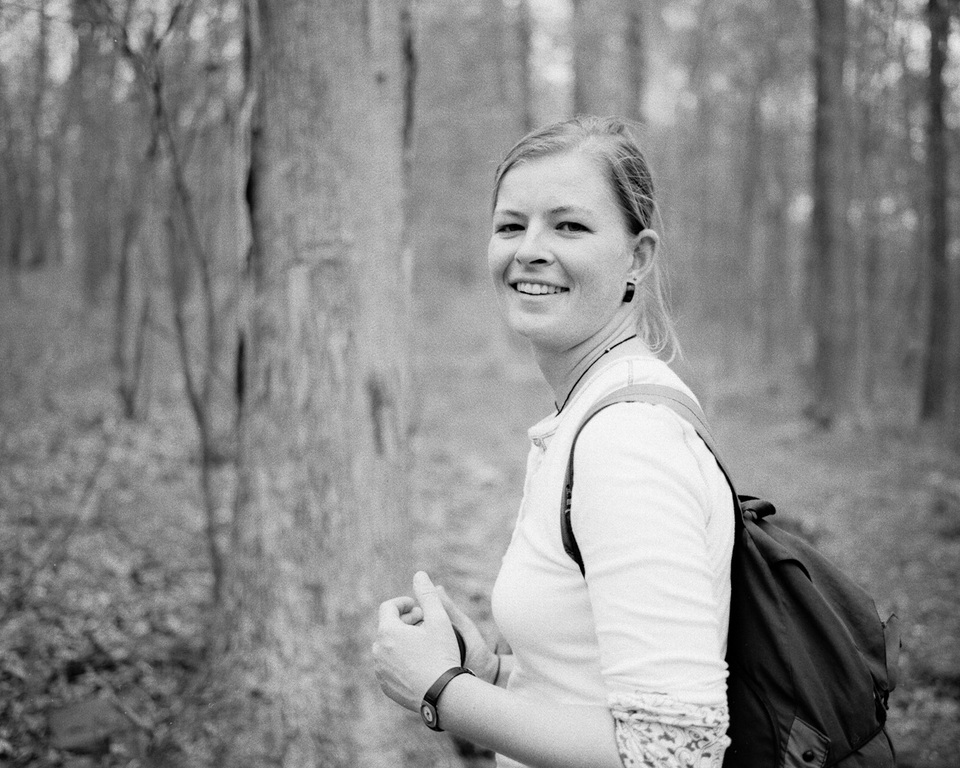 Acros 100, developed in… coffee.
We've had a couple of house guests this week – Johanna (here) and Markus (tomorrow's post). The two of them have been on a year-long trip around the world and stopped by for a short visit on their way back to Germany. They were also curious about alt-photo processes, and I was more than happy to oblige.
Over their short stay, we made kallitypes and toned cyanotypes. We also developed film in Caffenol-C basically every day: instant coffee, washing soda (sodium carbonate), salt and vitamin C. This shot is Johanna on a hike through Ralph Stover State Park, a scanned negative. I'd love to show you the cyanotype that we bleached with ammonia and toned with the same instant coffee, but that print is now making its way back to Germany with the two travelers!
This was my first experience with caffenol. I have to say that the results are better than I expected; the solution easier to prepare than I thought it would be; and it smells much less bad than people seem to make it out.
There will certainly be more caffenol experiments in my future.
For those that might be interested, here's our formulation:
In one beaker with 250mL warm tap water (~80° F):

dissolve 1 tsp iodized table salt
dissolve 4 Tbsp Arm & Hammer washing soda
dissolve 1/4 tsp crushed vitamin C tablets

In a second beaker with 250mL warm tap water (~80° F):

dissolve 6 Tbsp Folgers instant coffee (*not* decaf)
Mix the two beakers just before use. During agitation, shake it very vigorously; pretend it's a cocktail shaker. We agitated for the first minute, and then 10 seconds after each additional minute, for a total of 17 minutes at an approximate 75°F. Rinse well (three rinses as stop bath, until the bath comes out clear) and then fix normally.